Lifestyle Estate Developers Report 2022
06/04/2022
Benguela Cove Luxury Lifestyle Estate. What has 2022 been like in the best place to live?
Investment properties and plots for sale

Commercial development updates

New restaurant and hotel in planning

We are proud WWF Conservation Champions

Vineyard and winery report from the winemaker

Homeowners enjoy a 72 bottle allocation this year
We are extremely optimistic that interest in Benguela Cove will continue to grow throughout 2022, having seen a complete slump for the prior two years due to COVID. The woes of the past few years seem to thankfully be behind us and post-pandemic people appear to have revaluated their lives and are keen to live in what was previously considered a luxury holiday destination.
In the past 12 months we have seen a number of plot resales transfer. There have been two developer sales and we have completed the 3 partially completed houses located at 199, 163 and 164. These homes are now actively being marketed. We intend to continue building new homes as we believe there is far more demand for finished luxury homes.
We have faced a pretty torrid time like all hospitality businesses during COVID, but slowly but surely, we are seeing a return to normality. There are still not the numbers of tourists in the country that we would usually see but now that the requirement to produce a PCR test has been removed for vaccinated travellers, we are optimistic.
The restaurant and tasting room have been fully open 7 days a week and we remain one of the few wine farms to keep our doors consistently open. The last few weeks have seen the launch of our spectacular gallery which features over 30 of South Africa's top artists including the fabulous 7m bronze by Anton Smit. The positioning of Benguela Cove as an ultimate destination is well underway.
HOMEOWNERS ANNUAL WINE ALLOCATION
Our winery team under the guidance of Cellar Master, Johann Fourie has continued to win accolade after accolade. As a young winery, the results are quite outstanding and with the team remaining true to the terroir, our cool-climate estate wines are definitely a force to be reckoned with. This year we reached our maximum homeowners wine allocation of 72 bottles, we hope that our homeowners enjoy the wines and if you would like to host a tasting in your home or in the vineyards for a group of friends then please let us know and our winery team will be happy to conduct this for you.
We are currently exploring the addition of a new restaurant on the site; we have many large corporates using the current "Moody Lagoon Restaurant" for conferences, award ceremonies and dinners, the space is quite vast and we would like to add a smaller more intimate restaurant and delicatessen with more expansive views. We will keep members and homeowners apprised as our plans progress.
Following the rejection of the hotel application some time back, we have been thinking carefully about this and to this end we have been engaging with an architect who has a number of good concepts. The next stage is for us to take these concepts to the municipality and once we have an agreed way forward, we will then consultant with the members. We will keep you updated on this process as it progresses.
WWF
CONSERVATION CHAMPIONS
Benguela Cove has been awarded WWF Champion status – this is in line with our commitment to preserving the beautiful natural environment that we live in. Our use of solar on our winery has created greater green credentials and our winery and agricultural teams remain committed to improving and enhancing the environment in any way we can. It is a privilege to be part of this beautiful estate.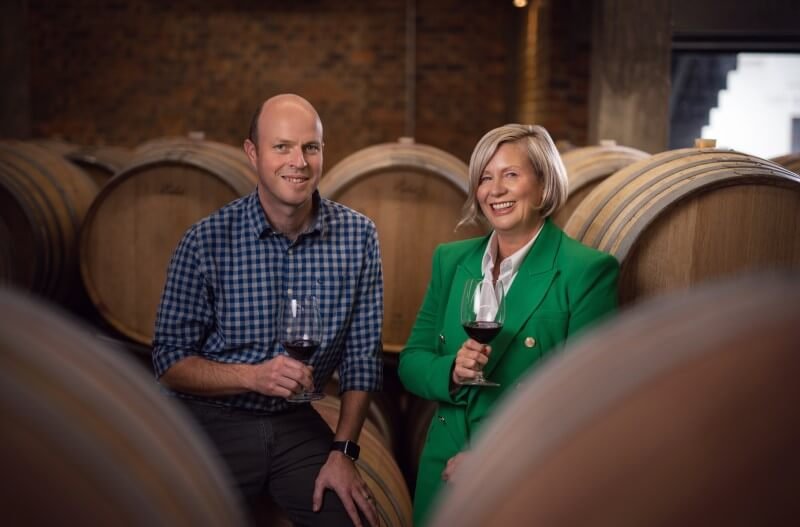 VINEYARD AND WINERY REPORT FROM CELLAR MASTER, JOHANN FOURIE
We returned in early January still on a high from the wine show successes that Benguela Cove enjoyed. We were all set and ready to get stuck into what was promising to be a very good high-quality vintage. Having said that, as a winemaker you learn early never to count your chickens before they hatch, as so many factors during the last phase of the growing and ripening season can swing the results. Leading up to harvest, the season has been textbook but we know just too well that late January is prone to heat spikes that might push us right into picking, as the sugars accumulate too fast and then at the back end of harvest come the March rains, these events cause the risk of disease and add to the pressure while waiting for grapes to achieve the ripeness we seek. None of this happened and in event of rain, we picked up on it early enough to revise our plans and we were able to pick the fruit when we wanted them.
I started out mentioning the wine competitions and wine critics' results from last year, what the team has achieved recently is unprecedented, let alone for such a young winery. The problem with this is that we've set the bar really high for ourselves but given what we have in tank and barrel in terms quality from vintage 2022 I have no doubt that we'll be raising the bar even higher in the near future. Watch this space...
Some of last year's highlights would be:
SA National Young Wine Show: 3 Gold Medals for Chardonnay, Shiraz and Petit Verdot

Platter's: 1 x 5 Stars Semillon and 11 x 4.5 Stars wines

Terroir Awards: 2 National Winners: Cap Classique and Malbec

Tim Atkin: 7 x 90+ scoring wines

Amorim Cap Classique Challenge: Gold

Global Fine Wine Challenge: Gold for Cap Classique

Michelangelo Awards:

- Trophy Grand Prix Highest Scoring Wine on Show – Semillon

- Trophy Best Pinot Noir

- 3 Double Gold and 3 Gold medals

Mosaic Pinot Noir Top5: Two wines in the Top5

Veritas Awards: 3 Double Gold and 2 Gold Medals
You might have noticed due to the popularity of some of our wines we have been out of stock on some ranges for a while. We have been hard at work getting these ready and available to you soonest so please be on the lookout for our first releases from vintage 2022 in early May as we release our newly bottled Lighthouse Collection Rosé and Sauvignon Blanc wines. For those who joined us for our harvest celebration event they were lucky enough to have had a sneak preview and will know they're worth counting down the days for.
View all Blog